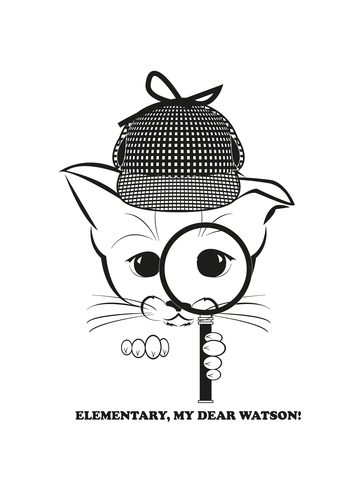 What you need to do to enter the Scat-venger Hunt:
(1)  Click on our Facebook page or our blog home page each Monday throughout March and early April to receive one weekly clue about the location of the hidden Purrlock icon (pictured here).  A total of five Purrlock icons will be hidden, one each week, at MyThreeCats.com.   The fifth and final clue will be posted on Monday, April 2, so stay tuned each Monday through April 2 to view all five clues and find all five Purrlocks.
(2)  Once you read the clue, explore the website and look for our Purrlock icon.  (Hint:  Purrlock will be hidden on product pages).
(3) When you find it, click the Purrlock icon and fill in your name and email address on the pop up form to enter the drawing.
(4) Repeat the process each week for each of the five hidden Purrlocks.  Contestants will have until Friday, April 6 to find the five Purrlock icons and click each of them to place their entry.  A contestant may enter a maximum of five times (once each week for a total of five weeks).   Duplicate entries will be disqualified.
(5) Share the contest with your friends on Facebook; Instagram and Twitter, so they may join the fun!
Terms and Conditions
The Scat-venger Hunt runs Monday, March 5 through Friday, April 6, 2018.  There will be a new weekly clue issued to find Purrlock.  The fifth and final clue will be posted on Monday, April 2 and contestants will have until midnight, Friday, April 6 to complete their entries.
There will be three winners who will receive a $25 shopping spree at MyThreeCats.com  The winners will be selected randomly from completed form submissions, so contestants who find Purrlock and click his icon, completing the pop up forms all five weeks of  Scat-venger Hunts will have a greater chance of winning.  Winners will be announced on the MyThreeCats.com blog. Facebook, and Twitter  pages on Friday, April 13, 2018.  Winners will be contacted individually by email on Friday, April 13, 2018.  Contestants must reply to the email confirming receipt, in order to receive their prizes.
As a contestant, you can enter one or more of the five weekly Hunts.  There is a limit of one form entry per contestant, for each weekly Hunt.
Winners will be validated through a subscriber list.
Must be 18 or older to enter.
My Three Cats & Co., Inc. reserves the right to publicize and promote this contest on any of its websites, social pages, and blogs, as well as third party advertising venues.