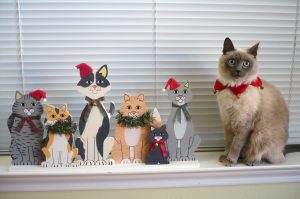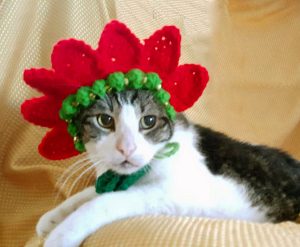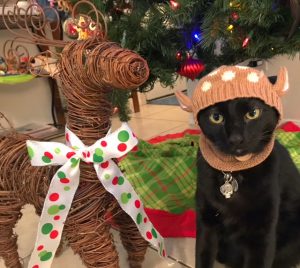 Dear Friends and Contestants,  our sincere thanks to all of you who entered this year's Holiday Cat Photo contest.  The contest has officially ended! Our judges had a real challenge on their paws picking the top three photos!  There were so many amazing, creative holiday cat photos submitted this year!  Nevertheless, our panel of judges has chosen the winners, they are:
WIN (1st Prize): Custom Cat Pillow, compliments of Narrative Decor: E. Hunt, Will the Real Cat Stand Up!
PLACE (2nd Prize):  $20 MyThreeCats.com Gift Certificate:  J. Crouch, Poinsetta Cat!
SHOW (3rd Prize):  $10 MyThreeCats.com Gift Certificate:  C. Jones, Reindeer Cat!
Also see these fabulous felines featured on our Facebook  Instagram , and Twitter pages today.  May you and your loved ones, both furry and otherwise, have a meowvelous holiday season!