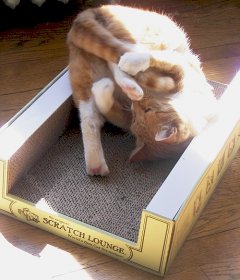 Did you know that your cat scratches furniture for what he thinks is a very logical reason?
He's really not doing it to get up your dander – in addition to sharpening his claws, he's releasing potent kitty scents, exclaiming, "this is my couch and to prove it, I'm leaving my business card"!
Wouldn't you like your cat to find a better place where he could scratch 'till the cows come home — like on his very own cat scratching furniture!
We can help lure and keep your cat away from your furniture with our wide selection of horizontal, inclined and vertical cat scratching furniture. All of these styles are effective and cat friendly, constructed from super long lasting sisal or heavy duty, corrugated cardboard. Moreover, they're actually attractive (really!) and can fit in anywhere in your home.
You can place the cat scratcher right near that "work in progress" soon-to-be battered, clawed up sofa, so that your cat will naturally choose the "right" scratching surface. Then, you can then preserve what is left of your sofa using Sticky Paws transparent furniture strips.
Or, if you're inclined to practice preventative medicine, park the cat scratcher next to that brand new upholstered chair — you know — the one that's still fairly unscathed from the swipe of a claw! You'll soon see your cat happily scratching away where he should – on his very own cat scratcher!
Order the cat gift that keeps on giving – a long lasting, economical, customized cat scratcher. Satisfy your cat's natural scratching urges and start preserving your sanity now!
Happy Shopping!   www.MyThreeCats.com