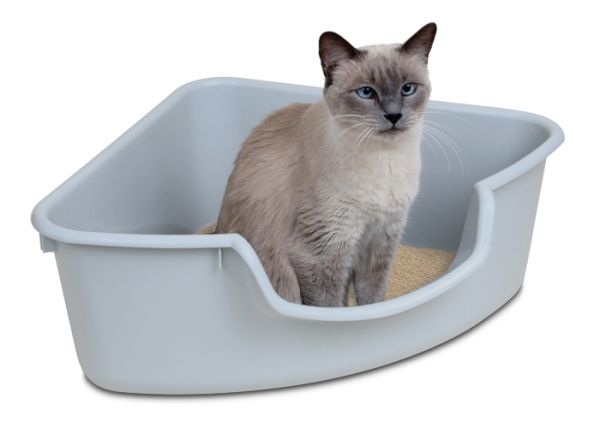 You know it's time to replace that old litter box with something better – you've been putting off that inevitable decision. What should be your top priorities in choosing the best litter box solution for your cats? It's simple – just think like your cat.
Ample room to maneuver. Give your cat a litter box with ample room so he can "dig to China". Cats are instinctively obsessed with CLEAN. They like to "bury" their treasure and devote much time to digging and covering.
Privacy, please. Whether you choose an open box or closed box, make sure it's located in a quiet, private area. Cats will be glad to use their box, as long as the location is accessible and comfortable.
More privacy, please. If you and your cat co-habitate in an apartment or place with limited space, what better solution than to use an attractive litter box cover to hide away the litter box.
Make it simple, silly. Minimize the time you spend maintaining your cat's box. One that features rounded corners is far easier to clean. Choose a litter scoop that's especially designed to catch all of the "buried treasure" so that your cat will have a clean box on his next visit. There are even telescoping litter scoops that allow you to clean the box without bending over.
High tech. This one's for you, cat owner. If you prefer a self cleaning solution, there are self-cleaning boxes that provide the ultimate in "no fuss, no muss" maintenance.
Now that you're ready to shop, SAVE! This week only, through September 15, 2012, go to www.MyThreeCats.com and choose any litter box, litter cover, litter scoop, or litter accessory and we'll take $5.00 off shipping and handling. Simply enter the promo code litter in the promo code box at checkout, and click UPDATE, and the discount's yours!
Happy Shopping!