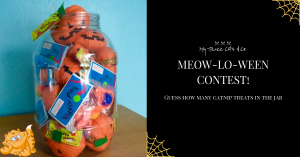 Are you feeling purrfectly lucky?   Enter our Meow-lo-ween Guess How Many Cat Toys? Contest for a chance to win a $50.00 gift certificate/shopping spree at MyThreeCats.com!
Please click here to read the full set of contest terms and conditions, before entering.
Enter here, then check our Facebook page on Friday, October 26th announcing the winning entry!
Good luck!  Don't let any black cats cross your path!