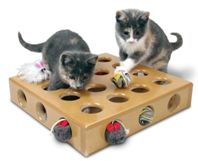 What types of environmental enhancements do you offer your cat?
Caring for cats properly involves much more than simply furnishing food, water and a litter box. Environmental enrichment, such as toys, food puzzles, perches, and even hiding places, can really change the quality of life for almost any cat.
The Winn Feline Foundation recently took a look at this issue in a group of shelter cats on their blog. Environmental enrichment in shelter cats is an excerpt from a study which provided a food puzzle to a stable group of shelter cats and examined their reaction to the puzzle and their interactions surrounding the object. The study concluded:
"a stimulating item that can be shared by all individuals in a stable group, such as a puzzle feeder of appropriate size, can play an important role in promoting positive social interactions among cats and improving their welfare."
Certainly, in shelter cats, this is an important study. It underlines the need for more than just basic care in the lives of these animals and the fact that this enrichment is easily achievable. After all, the ultimate goal is to give these cats the best chance for adoption. Cats that are comfortable in their environment and confident will show it in their behavior. And confident behavior is much more "adoptable" than a cat that is hiding in his cage or, worse yet, acting in aggressive manner out of fear.
However, this study also can be extended to those of us who keep multi-cat households. I have three cats and frequently see two or more of my cats interacting with the toys and puzzles at once. In fact, it seems as though if one cat shows interest, it generates interest in the other cats as well.  
Many environmental enhancement toys, cat furniture and other items can be found at www.MyThreeCats.com, the experts in optimum care care and well being.