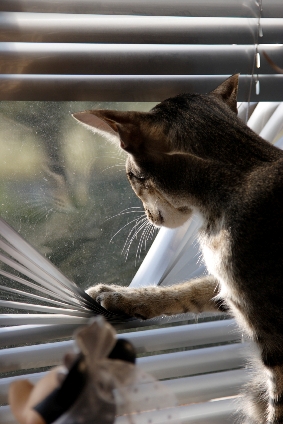 Companion cats rely on their humans for food, water and the occasional treat. Other than needing food and water, cats seem to prefer an independent life. So why not just set out a three-day supply of it when you leave the house for a long weekend?
Two keys reasons.   First, your cats need companionship, whether it's yours or whether it's someone with whom you entrust their care.  Keep their stress levels down by providing them with the attentiveness of a caregiver.  A qualified cat sitter will ensure that your cats have adequate food, water and supervision.  Second, your cat sitter will contact the veterinarian if your cats become ill or injured.
If your cats need special attention or medication, it's all the more important to make sure your cat sitter visits your home at least once or twice a day.   Administering meds should be as consistent a routine as possible, for the cat's well being.  A cat's health can deteriorate quickly (you may have experienced firsthand with your cat) and the right care may save your cat's life.
According to professional sources, it takes about 30 minutes for a professional cat sitter to care for one cat per visit. During the visit, the sitter will feed and water your cats and change the litter box. A cat sitter also will play with your cats, so be sure to leave plenty of toys — including a few new ones to keep your cats entertained.
If you hire a less experienced person, such as a neighbor or friend, make sure you choose someone reliable who will be able to come by at least once a day for at least 30 minutes.   For cats who don't need special medical attention, a capable friend is a satisfactory option.
Be sure to ask any cat sitter about their previous cat care experiences.   Keep in mind professionals are typically insured, which provides additional peace of mind.  Professionals should provide you with at least two references and you should follow up with them.  You should also ask them what would they would do if your cat becomes ill or if there is an emergency.
Leave out a full set of care instructions for your cat sitter, including the location and frequency of feeding, litter box cleaning,  locations of toys, treats, and grooming tools.   A complete set of instructions should be provided for medications and where those are kept.  Provide your phone numbers for emergencies and the number of your vet's office and emergency vet's office (if different).  Professional sitters should come out to your home ahead of time to meet your cat(s), become familiar with where their things are located and ask questions.
Hire a qualified cat sitter and give yourself and your cats the gift of peace of mind when you need to go away.