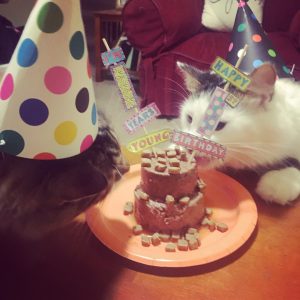 I have loved cats since infancy.  Or so my Mom used to say.  My first cat was a jet black, sleek looking cat named Ebony.  There's a faded picture of my Mom lowering Ebony into the cradle to take a better look at me.  I don't know if Ebony was that impressed, but I'm sure that I was!
Since then, after years of living with Ebonys, Taffys, Lilys, Bogeys and Chesters, with countless moments of joy and of sadness (at their eventual loss), I am still crazy about cats.  I was crazy about cats long before the internet's love affair with them.  In fact, I even opened a cat shop in 1998 and appointed a newly adopted tuxedo boy named Bogey as our official shop cat. (now, you can shop at my website, MyThreeCats.com)
My heart has expanded with each cat experience.  So much so, that I couldn't help sharing the passion.  Today, I serve on the Board at FosterCat, Inc., a Pittsburgh based network of foster homes and volunteers who rescue and save cats' lives every day.
Cats are so tuned into us that they know when we are energetic, happy, stressed, sick, exhausted or grieving.  How many of you have experienced the comforting feeling of a cat tending to you while you lay in bed, sick or hurting?  It's pretty special, whether they decide to catnap beside you, or tap your face with their little paw to say, OK, I'm here.  (Of course, LOL, they also use techniques to wake you up.)
The daily care giving time I have invested in my cats has been rewarded many times over with their unconditional companionship and affection.  Only those who have owned cats (or should I say, have experienced being owned by them) will understand this.
Anatole France made this observation:  "Until one has loved an animal a part of one's soul remained unawakened."  I wholeheartedly agree.