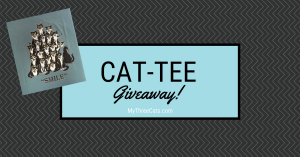 MyThreeCats.com wants to give away lots of (kitty) smiles!
Enter MyThreeCats.com's Cat-TEE Giveaway right meow.  All you need to do is click here to our Facebook page, find the MyThreeCats.com's Cat-TEE Giveaway posting, and enter.   You can also enter on our Blog, sign up using the Sign Up Email Form on the left side menu bar.  Do it right meow, giveaway entries must be posted no later than Sunday, August 26, 2018.
The winner of the Smile! Cat Tee Shirt (one size fits all) will be posted here and on our Facebook page.  This is a special cat tee that was designed by artist Stephanie Piro and appears to now be "off the market".
All entries will also receive an email offer for a 15% discount on your next order at MyThreeCats.com.   That should really make you smile!
Click here for complete Giveaway rules.