It's National Cat Day!
Celebrate October 29th in a number of great ways.
Watch an internet cat video (or two, three or four)
visit a local Cat Café, if you're lucky enough to have one in your town
Adopt a cat from your local animal rescue organization or shelter
Have some serious quality play time with your own cat!
Here's a video we thought you might like.  Enjoy!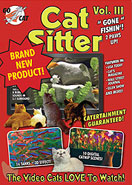 Some days, Bogey would rather watch the birds on a DVD than chase the bird-like toys his mom got for him.
When his mom realized this, she got him a few DVDs to keep him from getting too bored, which, as you know, for a cat, is not good.
The Pet Connection blog includes Dr. Marty Becker and features top veterinarians, best-selling pet-care authors and other top pet-care experts are all part of the Pet Connection team.
In this article they write about how to keep your cat from either getting into trouble or relaxing into a permanent reclining position from lack of exercise. Enjoy!
Feline cabin fever isn't healthy for your pet: Work to keep your cat busy busy busy