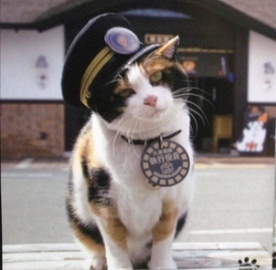 Tama, stationmaster of Kishi station will live forever in the hearts of the Japanese train patrons.
Tama, a tortoiseshell by Japanese standards, and calico by American, rose through the  ranks to become one of the world's most endearing celebrity cats.
Known as Tama-chan ("Little Treasure"), she started her life as an outdoor stray, fed by a local grocer near the Kishi train station.  She frequented the station, endearing herself to passersby.  One fine day in 2006, she was appointed stationmaster by an official at the Wakayama Electric Railway.   She was given her own station cap in her own size; a stationmaster's badge, and her own office with bed and litter tray.  Tama's presence there attracted increased ridership and revenue to WEC.  In recognition of that, she was honored with her own train in 2009, designed with her image on the outside and interior of the train.
Tama was promoted from stationmaster, to super-stationmaster and honorary division chief.  From there, she became an operating officer and a company vice-president.  Not bad for such humble beginnings!
In June of this year, Tama passed on, honored by a funeral attended by thousands.  She was honored as a goddess  and buried in a shrine.  Her successor Nitama, "Tama the second" has now assumed her duties at the Kishi station.  I'm sure Nitama is discovering that "Tama-chan" is one very tough act to follow!