We thought you might be interested in seeing how your city stacks up to the top 100 pet friendly cities.  WalletHub (August 8, 2017) provides this useful data.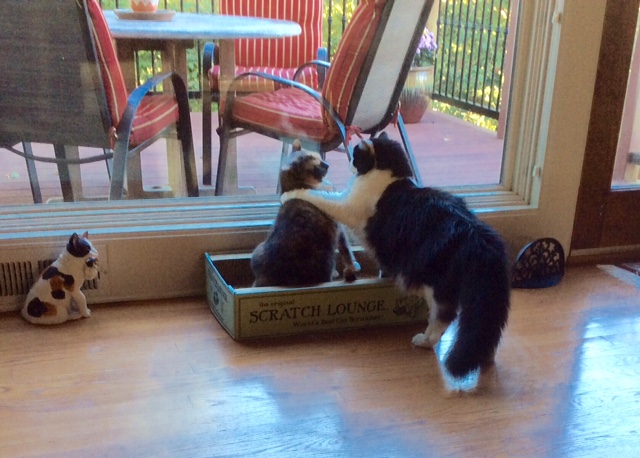 Years ago, pet owners had access to only a handful of businesses offering animal services and supplies.  But new pet businesses are cropping up every day to fill the demand of this growing breed of consumers. Today, we spoil our pets with all kinds of luxuries, such as gourmet pet cuisine, upscale hotel accommodations and even pet "dating" services.
With pet parents in mind, the 100 largest U.S. cities were analyzed across 21 key metrics. The data set ranges from minimum pet-care provider rate per visit to pet businesses per capita to walkability.
Here they are:
Overall Rank*
City
Total Score
'Pet Budget' Rank
'Pet Health & Wellness'
Rank
'Outdoor Pet-Friendliness' Rank
1
Scottsdale, AZ
65.93
80
1
2
2
Phoenix, AZ
63.54
12
6
10
3
Tampa, FL
61.48
10
9
19
4
San Diego, CA
60.56
85
2
6
5
Orlando, FL
59.81
27
4
47
6
Birmingham, AL
59.37
3
21
50
7
Austin, TX
58.26
43
3
54
8
Cincinnati, OH
57.19
13
27
28
9
Atlanta, GA
56.73
24
5
75
10
Las Vegas, NV
56.73
63
15
9
11
Oklahoma City, OK
56.13
1
33
77
12
Plano, TX
56.09
58
8
27
13
St. Petersburg, FL
55.91
21
34
23
14
Colorado Springs, CO
55.51
56
19
21
15
Sacramento, CA
54.95
66
20
18
16
Tucson, AZ
54.47
16
31
42
17
St. Louis, MO
54.37
18
36
36
18
Gilbert, AZ
54.22
41
11
65
19
San Antonio, TX
53.74
8
38
64
20
Miami, FL
53.65
33
12
72
21
Seattle, WA
53.28
88
14
17
22
Denver, CO
53.25
77
7
53
23
Albuquerque, NM
53.04
14
86
13
24
Bakersfield, CA
52.80
22
57
32
25
Henderson, NV
52.80
34
77
5
26
Portland, OR
52.78
94
10
7
27
Los Angeles, CA
52.65
96
13
4
28
North Las Vegas, NV
52.52
31
66
22
29
Columbus, OH
52.26
4
64
57
30
Tulsa, OK
51.36
15
42
74
31
San Francisco, CA
50.97
99
16
1
32
Fremont, CA
50.90
82
45
12
33
Glendale, AZ
50.87
53
26
56
34
Omaha, NE
50.47
17
54
66
35
Dallas, TX
50.44
84
18
41
36
Fort Worth, TX
50.43
50
28
69
37
Long Beach, CA
50.41
86
43
11
38
Irvine, CA
50.31
97
29
3
39
Houston, TX
50.03
52
25
71
40
Chicago, IL
49.97
83
17
52
41
Greensboro, NC
49.91
5
48
73
42
Chandler, AZ
49.83
64
24
63
43
Corpus Christi, TX
49.78
9
72
85
44
Arlington, TX
49.76
38
52
59
45
Garland, TX
49.26
47
51
60
46
St. Paul, MN
49.05
40
75
35
47
Pittsburgh, PA
48.97
45
82
26
48
San Jose, CA
48.94
44
70
25
49
Lexington-Fayette, KY
48.93
32
41
93
50
Raleigh, NC
48.92
42
30
84
51
Boise, ID
48.75
49
78
31
52
Nashville, TN
48.59
70
23
79
53
Indianapolis, IN
48.31
20
35
96
54
Mesa, AZ
48.30
69
37
70
55
Chesapeake, VA
48.28
72
67
24
56
Jacksonville, FL
48.21
55
32
86
57
Madison, WI
48.11
67
73
30
58
Memphis, TN
47.97
25
40
98
59
Kansas City, MO
47.71
19
80
62
60
Minneapolis, MN
47.65
74
55
44
61
Virginia Beach, VA
47.65
57
47
83
62
Riverside, CA
47.61
75
63
29
63
Stockton, CA
47.49
39
87
38
64
Fresno, CA
47.46
28
69
48
65
Lincoln, NE
47.44
23
81
61
66
Anaheim, CA
47.40
93
22
39
67
Chula Vista, CA
47.23
81
56
40
68
Oakland, CA
46.85
89
53
33
69
Irving, TX
46.57
47
60
89
70
Winston-Salem, NC
46.51
30
71
91
71
Durham, NC
46.26
29
65
90
72
Aurora, CO
46.25
62
49
82
73
Wichita, KS
46.02
36
50
99
74
New Orleans, LA
45.96
68
74
51
75
Hialeah, FL
45.62
71
61
68
76
Toledo, OH
45.55
6
91
58
77
Louisville, KY
45.47
35
58
94
78
Fort Wayne, IN
45.45
2
83
100
79
El Paso, TX
45.28
37
94
43
80
Washington, DC
45.20
95
59
16
81
Baton Rouge, LA
45.12
51
44
95
82
Lubbock, TX
45.04
26
89
87
83
San Bernardino, CA
44.77
61
93
15
84
Laredo, TX
44.66
6
95
67
85
Cleveland, OH
44.56
46
79
78
86
Reno, NV
43.99
79
68
76
87
Jersey City, NJ
43.73
92
85
14
88
Detroit, MI
43.44
54
84
80
89
Norfolk, VA
43.43
72
88
46
90
Milwaukee, WI
43.20
11
97
81
91
Charlotte, NC
42.86
78
46
97
92
Anchorage, AK
42.21
87
96
20
93
Philadelphia, PA
41.58
90
90
37
94
Buffalo, NY
41.36
60
92
88
95
Santa Ana, CA
41.34
91
76
55
96
Boston, MA
41.29
59
98
45
97
New York, NY
41.29
100
62
8
98
Honolulu, HI
39.69
76
100
34
99
Baltimore, MD
39.40
65
99
49
100
Newark, NJ
38.89
98
39
92
*No. 1 = Most Pet-Friendly