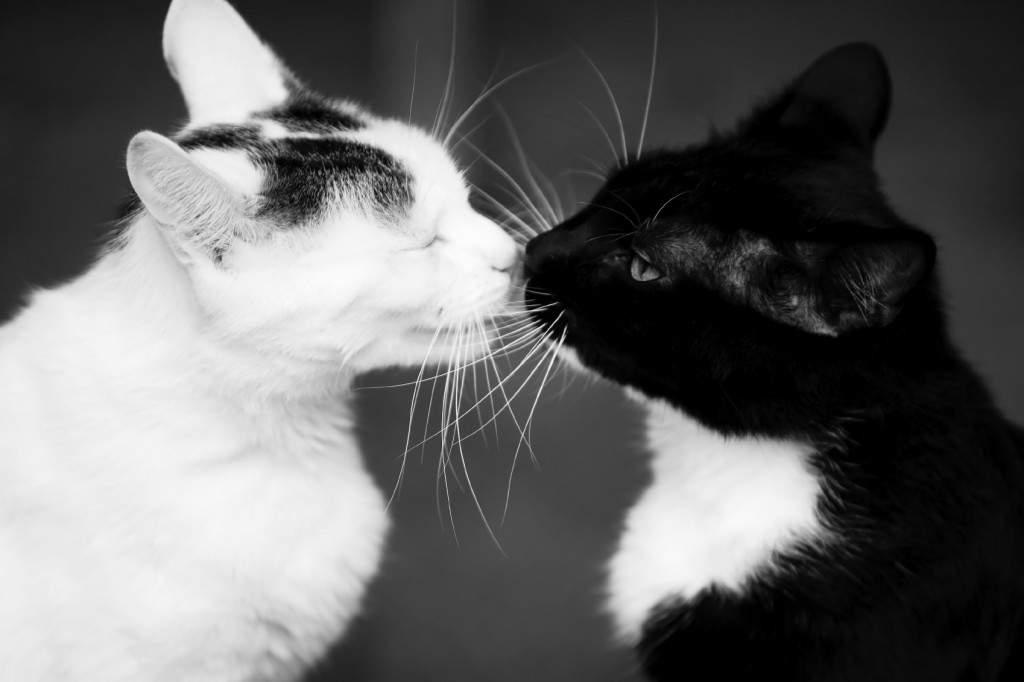 Current statistics on U.S. cat-owning households (there are about 90 million today) show that nearly one half (49%) of these households own more than one cat. (source:  Armandhammer.com)  Those multiple cat households must have somehow figured out how to achieve feline harmony in their homes.
Basically, the way to a peaceful feline home is to make sure that there are enough resources and space for your cats.   If your cats know they have options on where they can eat, sleep, play, and use the litter box, all the better.    If all of your cats have only one option, that's an ideal setting for territorial disputes and added stress among them.  We have a few pointers on how to create and maintain harmony in your cat household.
The initial introduction of cats to each other should be gradual and stress free.  If possible, keep the new cat in a separate living quarters in your home, with their food, litter box and toys.  Your "incumbent cats" will know about the new cat, but not have the stress of direct contact.  After a couple of days, gradually allow your "incumbent" cats to approach the new cat, keeping their contacts short and sweet.  After a few more days, you will have achieved a successful introduction.
Our strongest recommendation:  invest in vertical play spaces.   Cat trees, shelves and window perches are ideal solutions for giving your cats privacy in an off-the-ground location.  Cats like height, so it's an ideal solution.
Your cats needs outlets for exercising and scratching.  Leave plenty of scratching devices around your home.  Whether they are horizontal, vertical or slanted pads, they will protect your furniture as well as your sanity!
Allow each of your cats a separate food bowl .  If you have common water bowls, have several in different areas.  A water fountain designed for multiple cats is a great way of managing this, just make sure to keep the fountain and the water it holds clean and fresh.
Keep as many litter boxes in your home as the number of cats.  One of the worst problems can arise when cats have the use the same box.    Territorial issues may arise, causing them to "spray" the litter box, which signals to the other cats to stay away.    No one needs to have cats depositing in undesignated areas of the house.  Once that "out of box" behavior starts, it's hard to stop it.
Finally, monitor your cats' interactions.  It's better to observe body language and catch an early warning signal so that you can diffuse any tension and avoid an out-an-out battle.   One great technique for diffusing attention is to pull out a wand toy that immediately draws their attention away from one another and on the moving object (the toy on the wand).
Congratulations on your multiple cat household.  May you and they live harmoniously over all of their nine lives!